"To move uninterrupted through an environment or series of obstacles with fluidity, prowess, and stealth. To use combinations of skillful spins, rolls, flips, jumps, and kicks to elude an opponent."
NINJA Zone National Website: www.theninjazone.com
For success in school, sport, and life, a child that learns to channel their impulse & energy towards a focused goal will succeed in all endeavors.
The Ninja Zone curriculum teaches athletes an all new sport, with concentrations in both athletic skill and character development.
Strength & Agility
from Obstacle Course Training
Creativity
from Freestyle Movement
Total Body Control
from Gymnastics
Discipline
from Martial Arts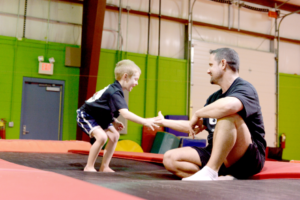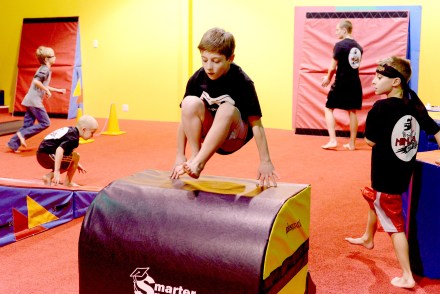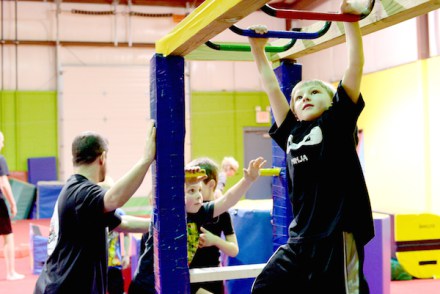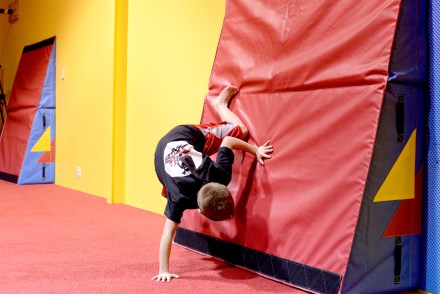 What Kids & Parents Are Saying
     
"My son loves this class. I do too! I appreciate how he is continuing to work on core strength, balance and challenging himself physically – all while having a blast."
Amy C.
     
"My son takes the class at the same time my daughter is in her gymnastics class. It's really nice that he has something to do and not just sit out in the lobby waiting for her. It's great exercise for the day."
Katie C.
     
"I have my daughter and son in the Ninja Zone classes and they love it! The instructors are super nice and work very well with kids."
Beth C.
Ninja Zone Programs

Lil' Ninjas
Ages 3-5
Lil' Ninjas is the entry level to an all new sport discipline inspired by gymnastics, martial arts, obstacle course training and street dance.

Ninja Training
Ages 5- 11
Ninja Zone is an all new sport that is fusion of gymnastics,martial arts, obstacle course training and freestyle movement that turns energy into ambition.

Ninja Girls
Ages 5 – 11
Created for the sporty, fearless, little girl that loves to flip, jump, and kick but prefers headbands to bows!

Ninja Parties
For Ages 3 – 11
Ninja Zone parties are awesome! We set up courses for time and speed! Test your strength and compete with your friends in a fun and safe space!