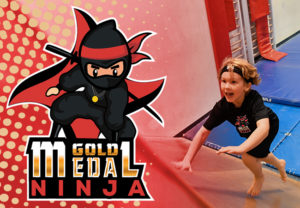 Are you searching for a fun and exciting way to celebrate -your child's birthday? Look no further than Gold Medal Gymnastics Centers where we offer Gold Medal Ninja and Gymnastics Birthday Parties that are the most fun!! An exhilarating experience designed to test physical strength and mental fortitude, our Ninja obstacle course parties are sure to provide an unforgettable adventure! With custom courses featuring elements of agility, balance, endurance, and strength-building exercises – all in one intense circuit – your child and their friends will be able to show off their skills while having loads of fun along the way. 
What Is A Ninja Party?
A Ninja party is a birthday party or special event that centers around obstacle courses designed to challenge and improve participants' strength, agility, and coordination. A Ninja birthday party is an exciting way to keep kids engaged and active. These themed parties offer an adventure-filled setting with various obstacles, including padded walls, ropes, and cargo nets. The objective is for the kids to work through the obstacle course as quickly and efficiently as possible, with bonus points for any challenging and creative approaches they devise.
During the event, your trained party instructor will organize and coach the group with all the fun and physical challenges that the kids can accomplish together. Additionally, the ninja party is important to foster team-building skills while encouraging physical and mental development in a safe yet exciting environment. 
With so much offered in just one package, it's no wonder why a Ninja obstacle party is becoming one of the top venue choices for children's birthdays. Not only are they fun, but they help improve participants' strength, agility, and coordination. These birthday Ninja parties take place at a state of the art gym/recreation center with specialized equipment for ninja-style obstacle courses.
Types Of Activities And Obstacles
The types of activities and obstacles that may be included in a Ninja obstacle party can vary, but some common examples include the following:
Climbing Walls
Climbing walls include different types of handholds, such as knobs, holds, or crimps, to challenge participants' grip, arm and leg strength, concentration, agility and climbing skills.
Balance Beams
Balance beams are often incorporated into ninja obstacle parties to test balance and agility. These narrow beams may be elevated or ground level and require participants to walk, jump, or perform other movements while maintaining balance. Participants may also have to traverse the beam in various directions and combinations for a more challenging experience. In some cases, there may be multiple beams, side-by-side beams, or stacked one on top of the other to further increase difficulty.
Hanging Obstacles
Hanging challenges are often included in Ninja obstacle parties to challenge participants' strength, coordination, and agility. These may include rings, ropes, or other equipment that participants must climb, swing, or traverse to complete the course.
Ropes
Ropes are a common obstacle featured in Ninja obstacle parties and courses, as they require strength, coordination, and agility. Participants may climb, swing, or perform other movements using ropes or rope-based obstacles. These can include climbing ropes with knots tied into them, hanging cargo nets that need to be navigated, or other types of rope-based challenges that require participants to move quickly and accurately.
Other Challenges
Other ninja challenges may be included in Ninja obstacle parties, such as incorporating trampolines, foam pits, and other equipment to challenge participants' physical skills and problem-solving abilities.
Benefits Of Ninja Obstacle Parties
There are many benefits to participating in young ninjas' obstacle parties, both physical and mental. Some of the benefits include:
Improved Physical Fitness
Obstacle course challenges are a great way for kids to stay active and improve physical fitness. Obstacle courses require participants to use their strength, agility, and coordination, which can help improve muscle tone, balance, and endurance.
Increased Self-Confidence
Completing challenging obstacles and activities can give children a sense of achievement and strengthen their self-confidence. This can be especially beneficial for children who need more confidence in traditional sports or physical activities.
Problem-Solving Skills
Ninja obstacle courses often require participants to think decisively and come up with innovative solutions to problems. This can help improve children's problem-solving skills and inspire them to think outside the box.
Fun And Unique
Ninja obstacle parties are a fun and unique alternative to traditional party activities, such as bounce houses or traditional sports. They can be a great way to have a memorable and enjoyable birthday child party.
Socialization
Ninja obstacle parties are also great for kids to socialize and make new friends. Children can work together to complete the obstacles and participate in group games and activities, which can help build teamwork and social skills. They can also bring their own food and enjoy themselves in the party room with other kids.
Booking A Ninja Birthday Party or Gymnastics Birthday Party
The process for booking a Ninja gym parties party at a recreational center or gym may vary, but here are some general steps that you may have to follow:
Contact The Facility To Check Availability
You will need to contact the facility where you want to hold the party to check if they have availability on the date and time you are interested in. You may do this by phone, email, or through the facility's website.
Choose A Party Package
Once you have confirmed that the facility has availability, you will need to choose a party package. This may include options such as the length of the party, the number of guests, and any additional activities or amenities included.
Review And Sign A Contract
The facility may provide you with a contract outlining the details of the party, such as the date, time, package options, and any additional terms and conditions. Be sure to review the contract carefully and ask any questions you may have before signing.
Make A Payment
The facility may require a deposit or full payment to secure the party booking. Payment will be made by the event host account that will be made at the time of booking. Payment methods may vary, including cash, check, or credit card. Be sure to ask about any cancellation or refund policies.
Confirm Details And Prepare For The Party
Once the booking is confirmed, you will need to finalize any additional details, such as the guest list and any special requests. You will also want to make any necessary preparations for the party, such as bringing any decorations or supplies you may need.
Experience The Thrill Of Ninja Parties – Sign up now!
Take advantage of the exciting opportunity to host your child's next birthday parties at Gold Medal Gymnastics Center's Ninja Obstacle Parties! These fun skill stations are packed with thrilling challenges and activities that keep kids entertained and active. With experienced coaches leading the way, you can be confident that your child and their friends will have a safe and memorable celebration.