Huntington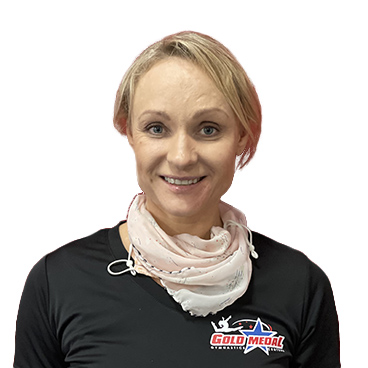 Ms Oksana Suvalova USAG Head Coach
Elite Gymnast age 12-15yrs
National Team Member of USSR
Awarded Master of Sport USSR
National Champion of Belarus
27 years of coaching experience (Belarus, Egypt, USA)
15 years of coaching at Club Champion, California
Coached several USAG National Champions in California
Two Athletes currently on the Brown University and Cornell University Teams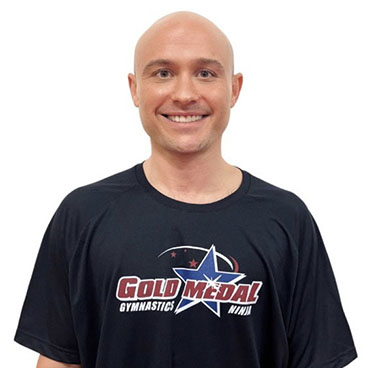 Mr Ryan USAG Team Coach
 NCAA Division 1 Gymnast- Army Gymnastics
3 Time USAG Boys Level 10 National Qualifier
Former Gymnast at Gymnastique
Coach up to Level 10, Elite and NCAA
Former LIU Sharks Gymnastics Team assistant Coach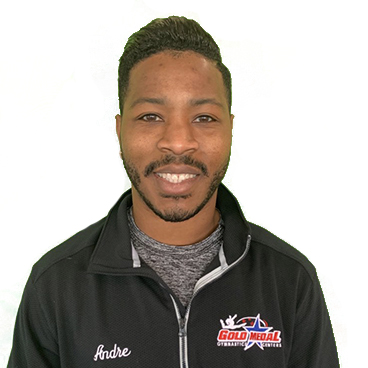 Mr Dre Team Coordinator
Coached several Elite National Team Members
Ryan Wangler – USA Visa Participant 2013
2007 NCAA All American
2007 Big Ten Freshman of the Year
4-time Junior National Team Member
USAG Professional Member since 2000
Had a 2016 Level 10 place 4th on Vault at National Championships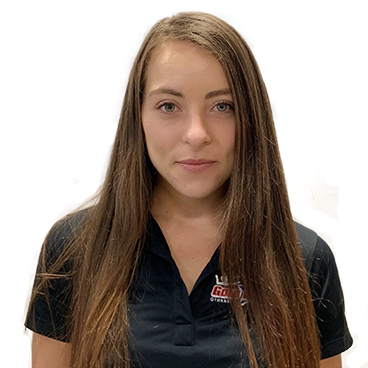 Ms Bianca Pre School & Recreational Director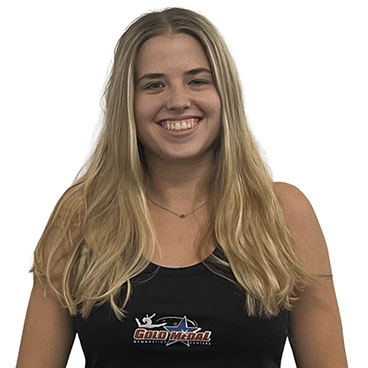 Ms Jessica Party Director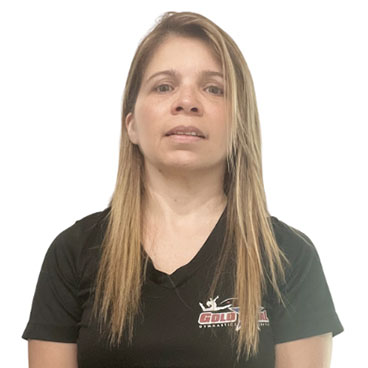 Ms Doris Ninja Director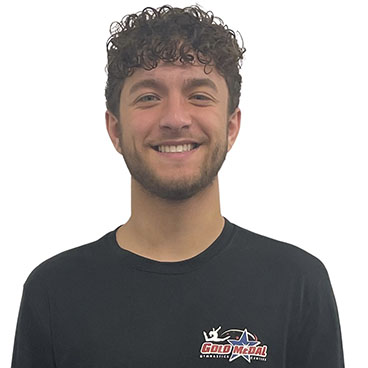 Mr Dario Party Director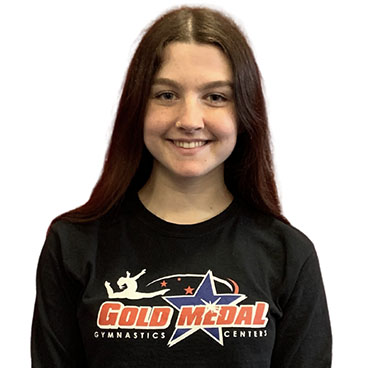 Ms Sam Office Manager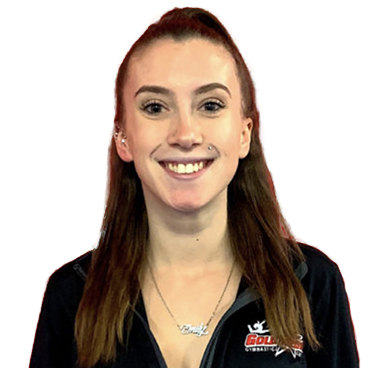 Ms Emily USAG Team Director
USAG Certified Coach
Competitive USAG gymnast for 10 years
Majoring in Sports Management at Farmingdale State College
4 year Varsity Diver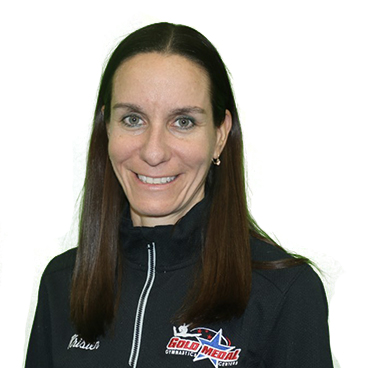 Ms Kristen Taylor Assistant USAIGC Team Director
Coaching at GMGC since 2001
BA in Psychology
Coached IGC since 2003
Has worked with children from the ages 18months to 18 years old.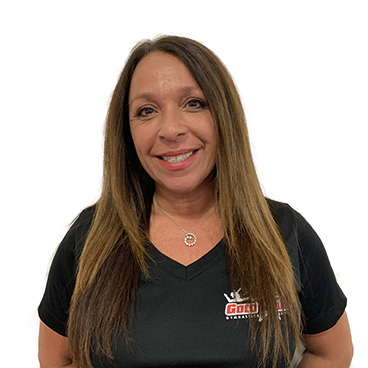 Ms Michele Brengartner USAIGC Team Director
Bronze level state champions 2004, 2005, 2006, 2007, 2008.
Silver level state Champions 2006, 2007 2008
Gold Level State Champions 2008.
Coaches gymnastics for Port Jefferson HS
Gold Level National Championships
All Around Gold Level World Champion 2013
Gold Level World Championships 2013
Ms Caitie Developmental Director, USAG Compulsory Director & Facility Manager
Competitive dancer for over 16 years.
Working for Gold Medal over 7 years now
Has taught dance & Acro for over 6 years
Attending Suffolk Community College to become a Special Needs Educator in the near future.
Fitness Enthusiast
Smithtown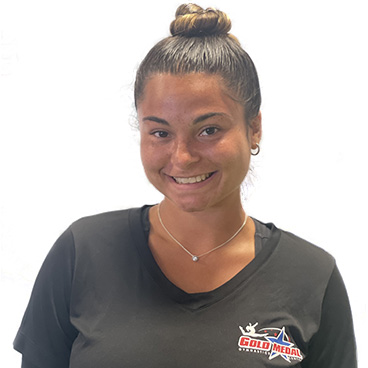 Ms Bella Preschool & Recreational Director
Working with children since 2016
Grew up with a gymnastics and dance background
CPR/ AED certified
Was a Gold Medal Gymnast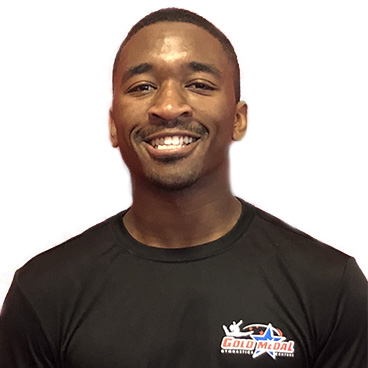 Mr Antoine Ninja Director
Working at GMGC since 2017
In the army for six years, Working in the department of Civil Affairs and Human Resources
Pursuing a degree in Communications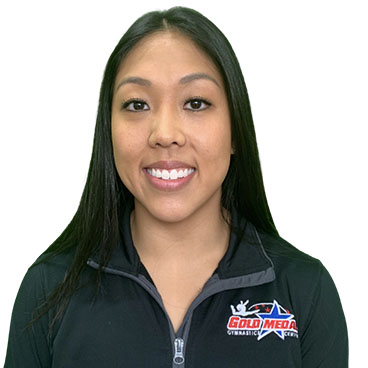 Ms Sam Special Events & Club Team Director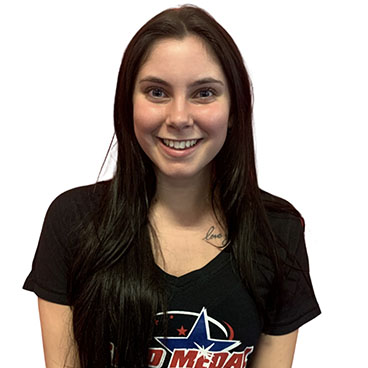 Ms Vanessa Party Director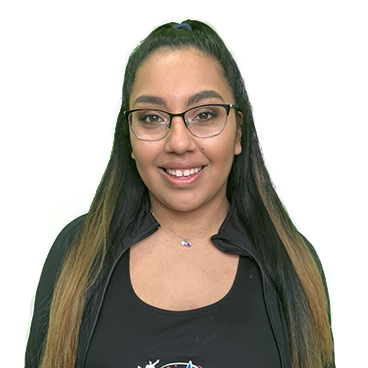 Ms Heidy Recreational & Club Team Director
Worked at GMGC for over 3 years
Assistant Head Coach Club Team
Pursuing a Bachelors Degree in Business Management at Farmingdale College
Did Gymnastics and Cheerleading for 6 years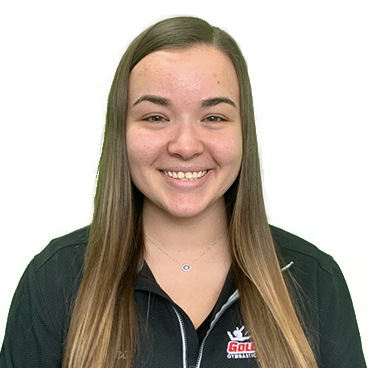 Ms Diana Facility Manager, Developmental & IGC Director
Competed USAG Level 4, 5, 6 and 7
Middle School and High School gymnast
Coaching at GMGC for over 10 years
Trained alongside International Elite coaches for over 4 years
Graduated St. Joseph's College majoring in Human Relations pursuing a Masters in Guidance Counseling
Head Coach for GMGC Club Team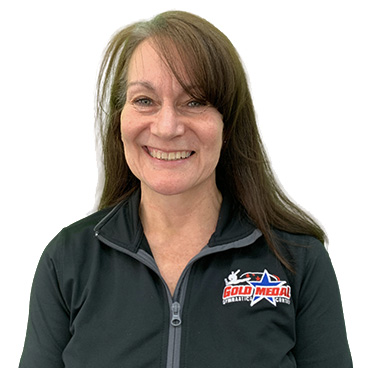 Ms Robin Office Manager
Part of the Gold Medal Family since 1973…as a gymnast, a coach and in the office
Former Competitive Gymnast, on GMGC's first USAG Team
Daughter was a competitive gymnast on USAG Team at Gold Medal
13 years Retail Management Experience
Avid Crossfitter
Competed 7 half Marathons,  2 NYC Marathons
Centereach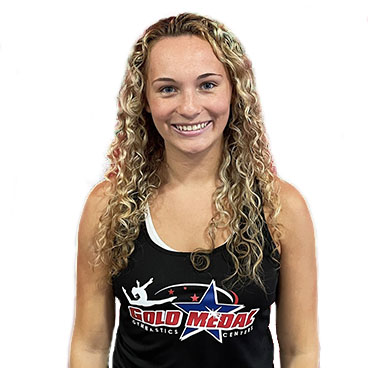 Ms Joleigh Developmental Director
• USAG gymnast up until Level 9
• Gymnast at Gold Medal for 10 years where I was a part of Centereach's very first USAG team
• Varsity Gymnast for 5 years - qualified and competed at Suffolk county championships each year
• Coaching at Gold Medal for 8 years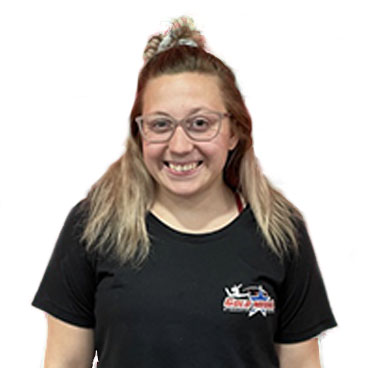 Ms Hailey Club Team Director
Gymnast at Gold Medal for 10 years
Cheerleader for 6 years
Coaching at Gold Medal since the age of 17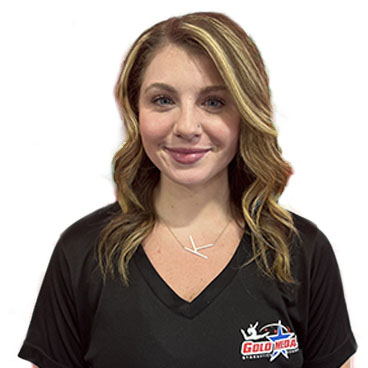 Ms Kerri Co USAIGC Director
Coached at Gold Medal for 9 years
Trained under Elite Coaches for 5=years
Coached USAG and IGC
Trained at the Olympic Training Facility
Former Pre-K teacher
1st Place Gold Regional Team 2021 & 2022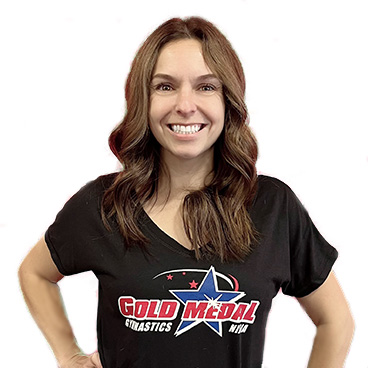 Ms Jeanette Office Manager
Former Recreation and Developmental Director in GMGC Centereach from 2014-2020
Degree in Business Management
CPR/AED Certified
First Aid Certified
Concussion Certified
Mom to a 2 Year old girl!
Ms Kailey Recreational & Party Director
Attending Stony Brook University for Linguistics

Working at Gold Medal since 2018

Loves working with children!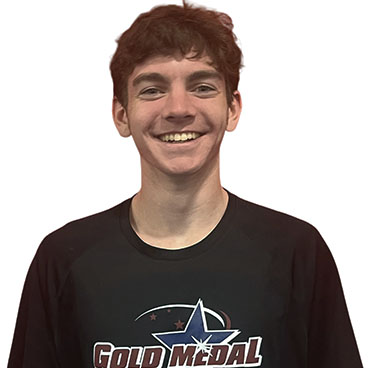 Mr Luke – Ninja Director
Attends Stony Brook University for Health Science, hopes of being a Physical Therapist.
Avid long distance runner- has completed two marathons and one triathlon!
CPR Certified
Working at Gold Medal since 2021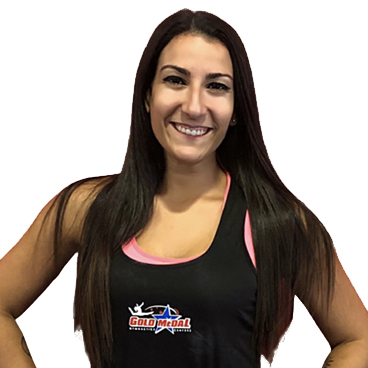 Ms Jamie Zahra Facility Manager & USAIGC Team Director
Attended Gold Medal for 8 years as a gymnast
Coaching IGC team for 9 years
1st Place Gold Regional Team 2021 & 2022
Coached several gymnasts with State, Regional & World titles
CPR & First Aid Certified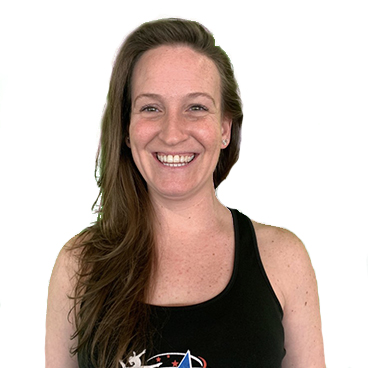 Ms Kim Preschool Program Director
Teaching Preschool Gymnastics for 23 years
Working at Gold Medal since 2007
Safety Certified
CPR/AED Certified
Concussion Certified
Rocky Point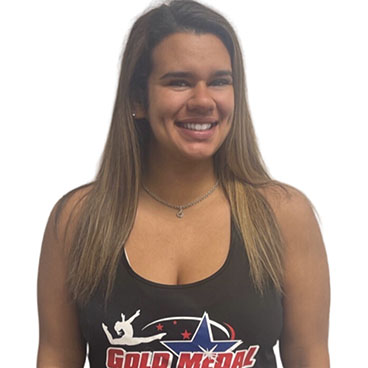 Ms Kaity Recreational & Club Team Director
First Aid/ AED certified

Gymnast for 6yrs

Competitive cheerleader for 8yrs

Experience coaching from preschool to team 
Ms Ally Office Manager
Graduated with Honors from Suffolk County Community College
Member of Phi Theta Kappa Honor Society
Worked at Gold Medal since 2021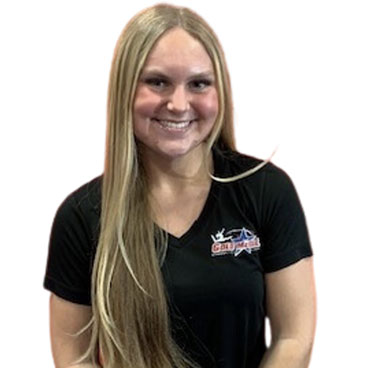 Ms Sienna Party Director
USAG competitive gymnast for 5 years, my favorite event was beam!
Working at Gold Medal since 2021
I weight train and go to the gym for fun!
I love working with children and plan to study early childhood education
Mr Jason Ninja Director
Loves to work out

Enjoys playing basketball

First Aid/AED Certified

Started working at Gold Medal in 2021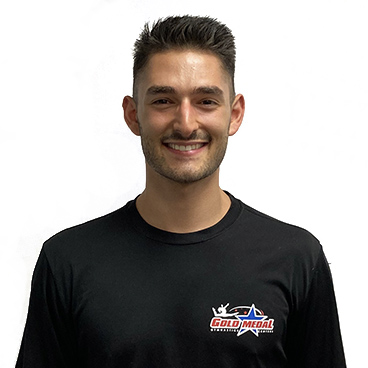 Mr Vincent Scarduzio USAG Girls Team Coach
Gold Medal Gymnastics: Assistant coach to Erika Waiser 2016 coach of the year for Boys USAG program levels 4 and 5.
Hasbro Inc.: Current east coast performance team member as a Power Ranger.
Motion Gymnastics: Assistant head coach for the USAG Trampoline & Tumbling program.
Queens College: Current studying for bachelors in Nutrition and Exercise Science.
Full Impact Martial Arts: Previous Co-Owner and head instructor.
NASM-CPT: Currently licensed NASM Certified Personal Trainer
1st Degree black belt in American Kenpo
Multiple time NASKA World Champion Martial Artist with several ESPN appearances.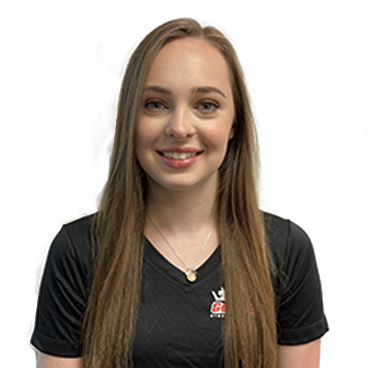 Ms Sarah Losee Developmental & USAG Girls Team Director
Junior Olympic Coach since 2016
USAG Safety Certified
Assistant Development Director for over 2 years
Junior Olympic Level 9 Gymnast at GMGC Rocky Point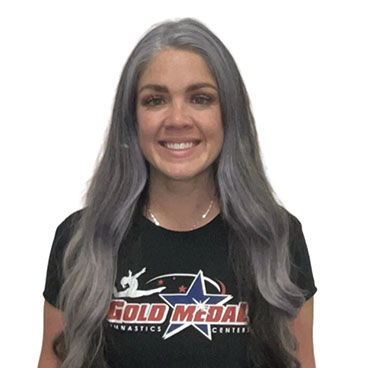 Ms Amanda (Mandi) Hamilton Facility Manager & Preschool Program & Special Events Director
USAG Competitive gymnast up to Level 6
Competitive cheerleader and dancer for 10 years
Experience coaching all levels from PreSchool up to USAG Level 7 and Cheer
Safety & PreSchool Fundamentals Certified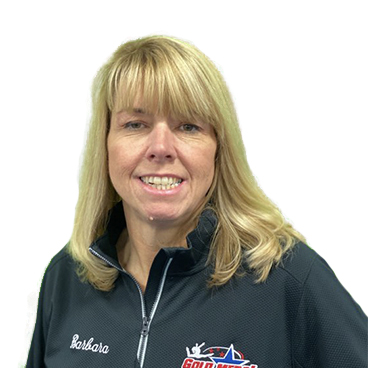 Ms Barbara Tiess College Coordinator
Coaching for over 28 years
Region 6 National Elite Chairman for 6 years
Coached USAG National Team Members
Many State, Regional and National Champions
Over 25 College Scholarships
Over 20 National TOPS Team Members
USAG Region 6 Service Recipient Award
2017-2018 USAG Developmental Team Invite
Garden City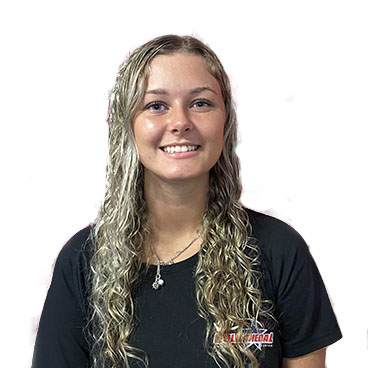 Ms Ava Recreational Director
Gymnast for over 5 years
Competitive Cheerleader for 14 years
Cheerleading Coach for 4 years
Experienced in coaching Preschool, Recreational and Advanced gymnastics
Ms Chade Ninja Director
Working at Gold Medal since 2016
Experienced babysitter for several years
Experience with coaching Ninja, Preschool, and Recreational gymnastics
Competitive Dancer for over 10 years
Former Basketball Player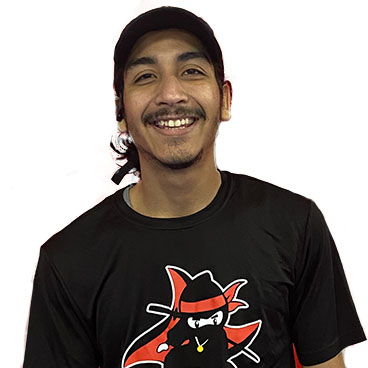 Mr Neville Ninja & Special Event Director
Working with children since 2014
Coaching since 2018
Very active and has a background in Martial Arts
Enjoys building bonds with students that help foster growth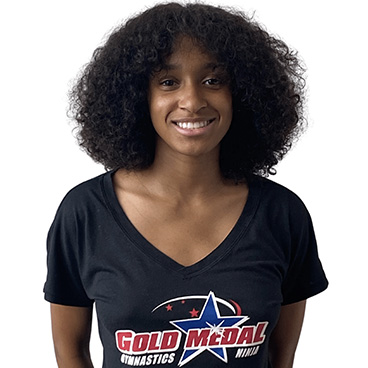 Ms Alexandra Office Manager
Participated in gymnastics and dance for several years as a child
Has been involved with children as a babysitter and caretaker for over 10 years
Did a medical outreach program in Vietnam at various elementary schools in 2018
Loves yoga, painting, reading, baking, and spending time with her younger siblings and her puppy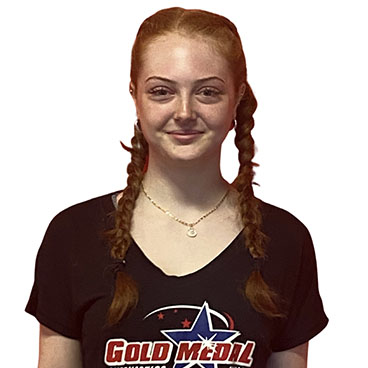 Ms Ciara Party Director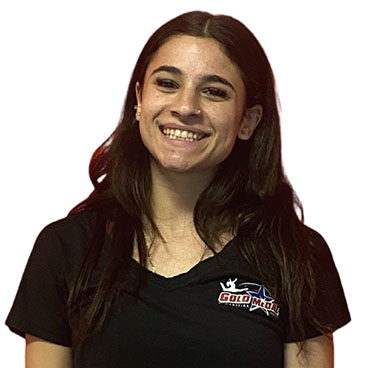 Ms Juliana Party Director
Participated in a variety of sports her whole life and is currently playing college soccer
Loves working with children and has experience babysitting
Majoring in early childhood education at Queens College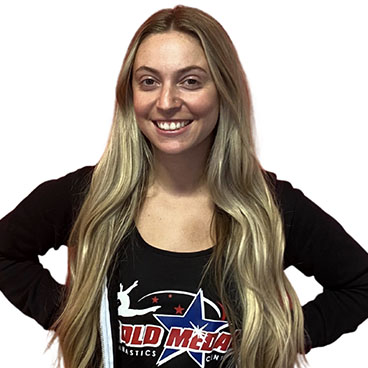 Ms Ali Preschool Director
Competitive Dancer for 13 years
Gymnast for 5 years
Experienced nanny & babysitter for over 5 years.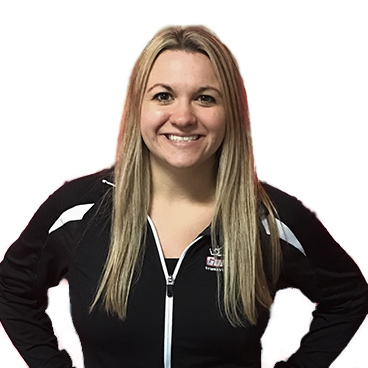 Ms Michelle Facility Manager
Gymnast for 12 years
Competitive Cheerleader for 7 years
Coached Cheerleading & Gymnastics for over 15 years.
BS in Recreation & Event Management University of Florida
MBA from Hofstra University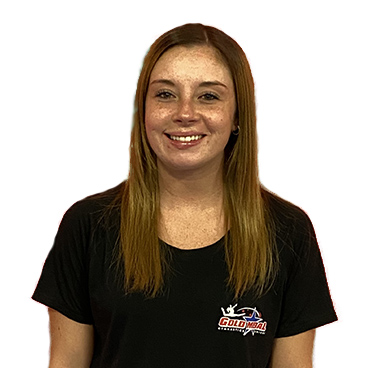 Ms. Danielle Pesale Developmental & IGC Director
Worked for Gold Medal for over 6 years
Preschool Director for 2 years
Developmental Director for 2 years
Coaching gymnastics for 8 years
Gymnast for over 12 years
Competed USAG, USAIGC and Varsity Gymnastics
Levittown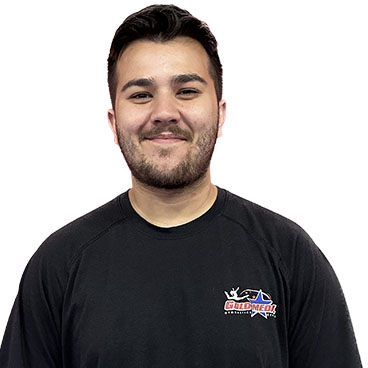 Mr David Recreational, Special Events & Regional Party Director
Attends FSC for Business Management
Gold Medal coach since 2020
All county Lacrosse player
Ms Lili Preschool Director
Been with GMGC since 2017
Competitive cheerleader for 9 years
Majoring in psychology and childhood development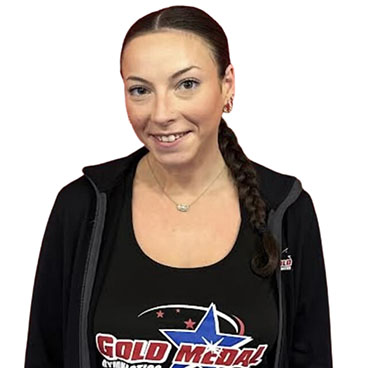 Ms Julia Office Manager
Graduated from Plymouth State University in New Hampshire with a degree in Communications & Marketing
Did gymnastics from the ages of 6-13 years of age
Played Lacrosse in High School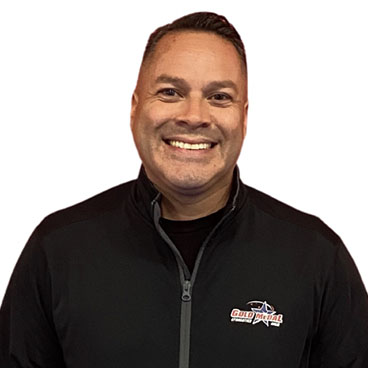 Mr Ron Facility Manager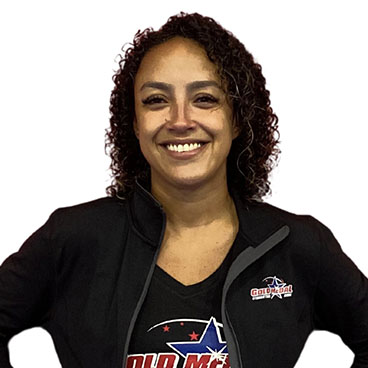 Ms Larissa Facility Manager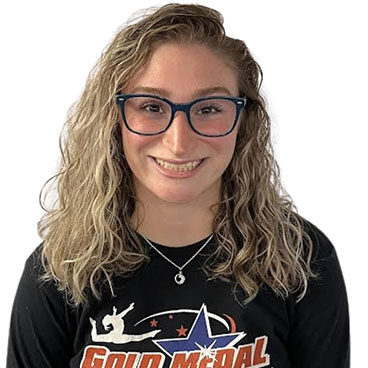 Ms Sarah Party & Special Events Director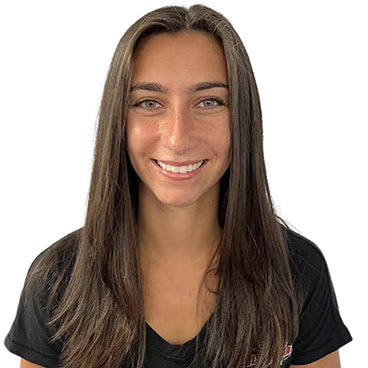 Ms Alyssa Club Team Director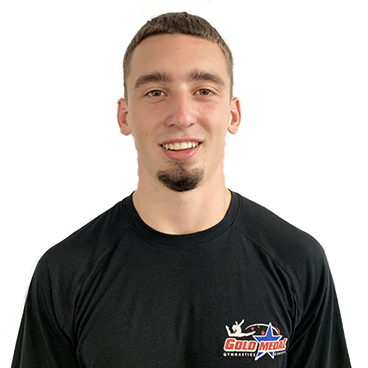 Mr Cole Ninja Director
College football player
ISSA Certified Personal Trainer
Sports management Major
Ninja instructor since 2018