RECREATIONAL GYMNASTICS
If you want your child to learn cores skills to help them in every sport, then the recreation program is a great place to start. All classes are structured around making every child stronger, more flexible, and to improve overall coordination. Our fun & positive learning system creates an atmosphere of encouragement and excitement to keep the children engaged during the entire class. Your child will learn at their own pace on all of the olympic events, make lasting friendships, and build their self esteem with every skill they achieve!
STATE OF THE ART FACILITIES
Girls & Boys Recreational Classes!
World class programs, held in our state of the art facilities for boys and girls ages 5 and up.
Watch our video to learn more!
This recreational gymnastics class was created for 5-year-olds to get an early introduction to the larger gymnastics equipment. Children who are ready to move past the preschool fundamentals, but are not yet ready for the 90-minute recreational program, can enter this introductory class that is 60 minutes long with children their own age.
During this class, they will be taught the basic skills & safety on using the full-size bars, beams, & vault. They will also be introduced to the next level of skills on tumbling, trampoline, tumble track & rockwall. This program is designed to maintain the fun preschool environment, without being restricted to just the preschool area and equipment. Children who are currently enrolled in preschool classes can ask their teachers if they are ready for this next step.
Early Introduction to Recreational Gymnastics
Learn basic skills and safety with full size bars, beams & vault
Introduces skills for tumbling, trampoline, tumble trak & rockwall
Intro to Rec. prepares students for Girls Gymnastics Class or Accelerated Class.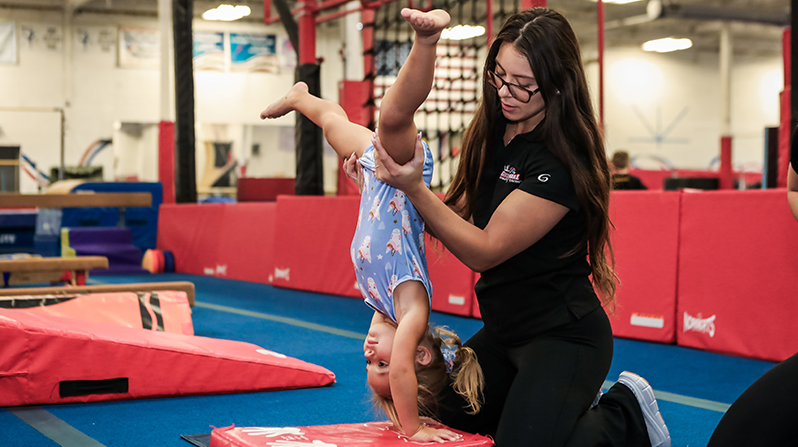 Girls Gymnastics
(6yrs. & Up)
Beginner & Intermediate
This 90-minute class is based on the 4 Olympic events: balance beam, uneven bars, vaulting and floor exercise. Each week kids will be learning new skills in our state of the art facilities. Lesson plans are designed to keep kids moving the entire class, improving their over-all fitness and keeping it fun!
Gold Medal offers a nurturing environment where students are encouraged to progress at their own unique pace: from forward rolls and cartwheels to front and back handsprings. Lessons always include trampoline or tumble track.
Kids increase their flexibility and strength, boost their self-esteem, and gain a sense of pride in their achievements. Classes are 90 minutes long and are divided into groups with their friends and also by age and ability.
Class focuses on balance beam, uneven bars, vaulting & floor exercise
Increases flexibility, strength and boosts self esteem while having fun
Great for all sports
Learn forward rolls, cartwheels, front and back handsprings
Kids are grouped with friends by age and ability
Girls Gymnastics prepares students for Accelerated Gymnastics.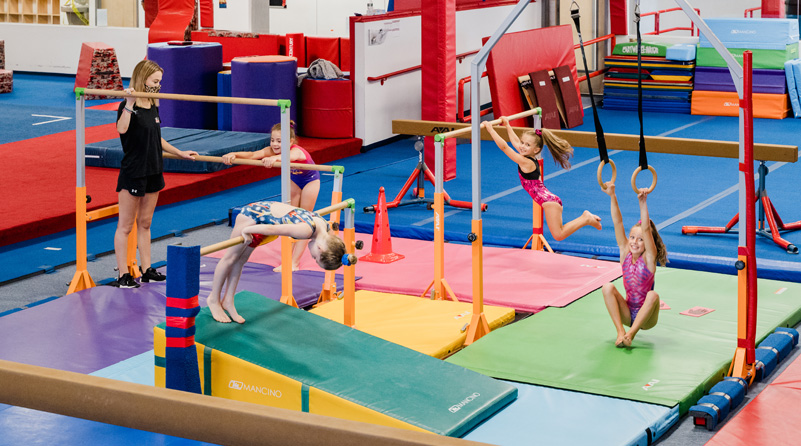 GMGC Is So Much More Than Gymnastics